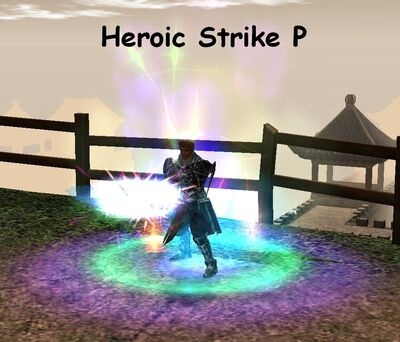 A Arahan-Fighter is very fast and makes much damage.
Skilling:
First: CON and STR both to 90 (CON 10 more than STR)
Second: DEX to 90
Third: INT to 90
PvM1:
Heroic Strike
Whirlwind
Berserk
Frenzy
Charging
PvM2:
Heroic Strike
Whirlwind
Frenzy
Charging
Berserk
PvP:
Heroic Strike
Berserk
Whirlwind
Charging
Frenzy
You also can use the Arahan-Fighter as lvl 35 Metins-Farmer. You have to skill then: first HS then Berserk, so you have with lvl 35 an armored horse and HS and Berserk M1.
Ad blocker interference detected!
Wikia is a free-to-use site that makes money from advertising. We have a modified experience for viewers using ad blockers

Wikia is not accessible if you've made further modifications. Remove the custom ad blocker rule(s) and the page will load as expected.